Well my dear friends, it's Monday, and I'll be the first to admit that I want it to be Friday around 5:17 (when Miles gets home) already. But, you know what? God has been incredibly generous with us lately, and I am so excited to get to share how in this link-up.
+ one: Since shutting down Steel & Twine, I haven't had any desire to be creative whatsoever--the whole selling art and designing stuff all the time as a job sort of burned me out a bit. However, the drive came back and I did an incredible amount of crafty things just this last weekend (including the magazine flower poster for my bathroom pictured above). YAY.
+ two: Salt Lake City two weekends ago was an absolute blast. I am still definitely riding on joyous fumes from that trip. We had so much fun celebrating the marriage of some near and dear friends, enjoyed tons of delicious food, laughed hard the entire time, and even did some impromptu zip lining up in Park City. Amazing. It is such a blessing to be able to laugh and have fun with Miles.
+ three: Marriage rules. Every single day I am more in love with sweet Miles than before and we've been doing a lot of discussing about a lot of stuff and it's just really cool to know that we're on the same page about things. Talk about grace, because the first few months of "communication" were rough.
+ four: Thredup bag is off and being processed and my second bag is currently sitting in the office 3/4 of the way full. Even if the checks aren't as beefy as I would wish, I am glad to be able to donate so much to different organizations! OOhh, and speaking of donate: y'all should see my garage because I've been taking loads to goodwill for the last three days. It's absolutely refreshing to be hoarding less STUFF and instead, to be redirected to the only sustainable One.
+ five: The girls in my community group and myself will be going through the next SRT devotional, "Open Your Bible", together. I wasn't sure that they would all say yes, but I know that God is going to do some mighty stuff through our time in the Word together.
How about you? What ways has God's grace shone through these past two weeks?
Link Up and share :)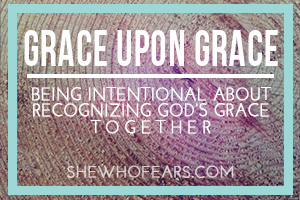 <div align="center"> <a href="http://www.shewhofears.com/search/label/grace%20upon%20grace" title="She Who Fears || Grace Upon Grace"><img src="http://i36.photobucket.com/albums/e38/JordynBrazil/graceupongrace_zps397b52e5.png" alt="She Who Fears || Grace Upon Grace" style="border:none;" /></a></div>