I may be biased but Grace Upon Grace is my fave linkup out of all of the linkups in the land, and since it's that time again, I am really just excited about today. If you haven't been here before, Grace Upon Grace is a linkup that takes place every other Monday where us bloggers come together and share the ways that God is doing big things in our lives. The small community of grateful women that it has created encourages me every single day and I would love for you to be a part this week!
+ one: God created rest and He knows when His children need it. I went on a trip this past weekend up in the mountains. We hiked the first day, ate at a mountain lake, and did some yoga. It rained the entire second day and with no cell service at the cabin (or wifi!!), I was forced to just relax. It was amazing.
+ two: I am so excited to announce that I am an official Noonday Ambassador! (post coming soon and links to follow).
+ three: I got pretty behind on my reading while traveling and so I've been doing a ton of extra to catch up, which has done awesome things for my soul.
+ four: I've been hanging out with/ having lots of talks with my sister in law lately, which has been crazy good. Prayers would rule.
+ five: Miles and I are headed to Salt Lake this weekend for the wedding of two of our best friends as well as for him to preach on Sunday. We leave Thursday afternoon and don't have to come back until Monday afternoon, so I'm really excited to spend a few days in my favorite place in the world!
Big or small, I'd love for you to grab the button below and share how God is working in your life!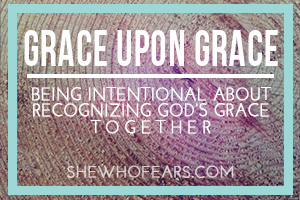 <div align="center"> <a href="http://www.shewhofears.com/search/label/grace%20upon%20grace" title="She Who Fears || Grace Upon Grace"><img src="http://i36.photobucket.com/albums/e38/JordynBrazil/graceupongrace_zps397b52e5.png" alt="She Who Fears || Grace Upon Grace" style="border:none;" /></a></div>