How is your Monday going so far my dearies? As I sit in bed and type this up, I really can't complain. My heart is feeling heavy as I think of my brothers and sisters in Iraq (and probably all over the world) that can't just sit in their cozy bed and blog to the world about minuscule things that Jesus is doing in their lives; it makes me realize how much I truly take for granted.
If this is your first time here, I promise I never start out so downtrodden--and if this feels like a guilt trip for you, I am sorry and I truly didn't mean it. Either way, consider linking up with me this week in sharing the evidences of God's grace in your life over the past two weeks.
+ one: I know that just a few weeks ago I updated my etsy shop, but this last week I put it on vacation mode. I realized that with how stressed I've been lately, the last thing that I want to worry about is orders to be filled. I thought that I would feel like a failure for closing shop for awhile, but instead it felt like the biggest relief.
+ two: A few months ago I potted some flowers to put on the front porch and the weekend after I did that, we went out of town (which was also probably the hottest weekend we've had in Wyo). Long story short, all of my flowers died. But friends, I didn't give up on them. I still water them, and three of the five pots have either fully come back to life or at least have some new little sprouts on them. Coming home to flowers on the front porch is an easy way to put a smile on my face.
+ three: Anyone else on dat allergy grind? I am fo real. While the puffy eyes and lack of air flowing through my nostrils has been pretty lame, for some reason, it's helped me to fall asleep fast and stay pretty conked out instead of making it harder to sleep the way it usually does. Weird, right? But so great.
+ four: I am free. I am free from so many things. I have been liberated from sin and I am free to let everyone know. I am feeling especially grateful for my freedom in America to be able to tell the world about Jesus and not have to worry about being slaughtered for it. Jesus come soon.
+ five: Miles starts school back up pretty soon and I am so grateful for all of the quality time that we were able to have on his semester off. I am also really grateful that him going to school stimulates every aspect of his life. As he learns more about God, the Bible, the history and theology and all the other "ologies" of it all, he becomes an even better leader than the previous day. I am so very thankful for a sweet husband that has such an intense desire to learn about God and to pursue Truth.
+ six: Our trip to Reno was a success. Even though it was more exhausting than anticipated, every minute of our drive was worth it to see those that we love, hang out in familiar places, and eat delicious food. Here are some pictures of our time.
Grab the button and link up below!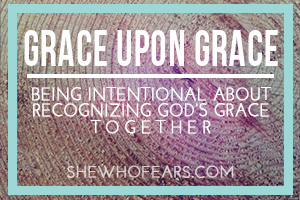 <div align="center"> <a href="http://www.shewhofears.com/search/label/grace%20upon%20grace" title="She Who Fears || Grace Upon Grace"><img src="http://i36.photobucket.com/albums/e38/JordynBrazil/graceupongrace_zps397b52e5.png" alt="She Who Fears || Grace Upon Grace" style="border:none;" /></a></div>