People, July ends this week and I'm sort of freaking out. Last year it started snowing here in October and if that's the case I only have one warm month left. This is not okay.
In other news, it's Monday again, and not just any Monday--but Grace Upon Grace Monday where I share with you how Jesus is exhibiting His grace in my life (which is also like a mini update for you all) and then I give you the opportunity to link up and do the same! My heart behind this is that we would become more intentional in recognizing God's work in our lives--even when everything's all topsy turvy--and that we would grow in fellowship with one another as we visit new blogs and comment, encourage, and love on one another!
With that, here are just a few ways that Jesus is showing me grace lately:
+ one: Amazon sells the kind of dog food we use for twenty two dollars cheaper than we are able to get it here. We're not only helping out FRGSR by using smile and getting free two day shipping with our prime membership, but we're saving almost $45 dollars a month. If you haven't checked out Amazon for everything that's a staple on your monthly budget, you should because it might save you half a thousand dollars on dog food like it's going to for us.
+ two: Guess who finally floated the river? This girl and her husband! We rented some tubes and relaxed for about three and a half hours. The last half hour was all sorts of rapids and was not relaxing at all, but it was insanely fun and I had been craving that kind of quality time with Miles for a while. Win, win.
+ three: That simplifying goal? Crushing it. We got rid of an extra bed and changed the guest room to an office/art studio and then got an air mattress for when we do have guests. Miles and I both also got rid of tons of clothes (which I haven't decided whether to sell or donate) AND we finally got rid of our tv which opened up our living room by a million square feet. This is real life. All that I've got left is the kitchen, really and then I am done simplifying!
+ four: Two top super secret blog projects are in the works. The first one already has lots of positive feedback and you guys can expect to see lots of new faces around here on Thursdays (did that give it away?). The second one hasn't worked its way into any schedule yet, but I made the first step at it by purchasing (and finishing) the book that I needed to to get the wheels turning. You should be excited.
+ five: Miles and I are heading to Reno for the weekend. We're so excited to get to finally go down together and see so many friends that we miss, eat a bunch of delicious food that we constantly crave, and visit all the little places that were always our faves. Even if it is a fourteen hour drive each way (cheaper than one round trip airline ticket), we think it's way worth it.
What are your weekend plans?
How has life been lately?
Grab the button below and let's catch up!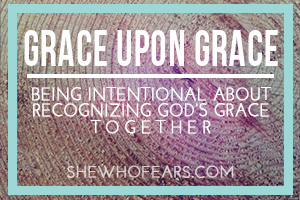 <div align="center"> <a href="http://www.shewhofears.com/search/label/grace%20upon%20grace" title="She Who Fears || Grace Upon Grace"><img src="http://i36.photobucket.com/albums/e38/JordynBrazil/graceupongrace_zps397b52e5.png" alt="She Who Fears || Grace Upon Grace" style="border:none;" /></a></div>