How's everyone's Monday going?? I hope it's mighty fine. I had family in town this weekend and so today I had to say goodbye which was rough, but I am still excited to be able to come here and share how Jesus' blessings are working in my day-to-day and to hopefully hear from you as well!
The idea behind Grace Upon Grace is that we would become a community of women saturated in God's grace and coming together as a body to encourage one another as well as get to know one another!
+ one: Our community group has outgrown our home. Insane, right? Even more insane though, a couple that is a part of the group is opening up a business in the next month or so, and after talking to their business partners, have agreed that we can use their building on Thursday evenings to hold everyone! We had our first gathering there last week although it was just a fellowship night (we try to do those once a month), it was nice to have some room to breathe!
+ two: I've been having a ton of fun with photoshop. I am so grateful for a husband that is eager to support my creative pursuits and a God that desires to bless His people as well as make beautiful things out of dust. Literally. So cool.
+ three: I've been doing yoga instead of lifting weights for about a month now and I love it. Don't get me wrong, there are still days that I would love to move some weight around, but I am getting strong and lean and stretchy all at once! I have terrible hip-flexor movement, knees, and especially lower back and yoga has helped a lot so far. Plus, I've been doing it with my mother-in-law and sister-in-law and it's fun getting that time to hangout with them every day. I am looking forward to diving more into Holy Yoga soon, too! It's amazing what the body can do!
+ four: So it's been a goal of mine for a while now to simplify, and I finally have my husband on my team! Wahoo! It's not that he was ever anti-simplifying, but now he's actively simplifying with me, which makes it way easier! We finally gave away our monstrous t.v. and some furniture, and last night he went through a bunch of his clothes to give away! I also have another helper that I am way excited about...but I can't tell you guys about that yet ;)
+ five: Not last Sunday, but the one before, Miles preached at our church for the first time! It wasn't his first time preaching, but it was his first time here in Casper and he nailed it. We were nervous as to how our church would receive his teaching because he's so young, but they were all really excited, too. I absolutely love listening to him preach the gospel. Plus, having such an awesome leader for a husband definitely doesn't suck.
+ six: Like I mentioned at the beginning, my younger brother, grandma, cousin, and great aunt came into town for the weekend. It was really great to see them all! We caught up over meals, trekked out to the lake, explored waterfalls, ventured to the rodeo, shared belly laughs before bed, and loved on each other as much as we could before it was time to say goodbye. I was so blessed by them traveling all the way here just to see me and Miles and the little town that we live in. I hope that I'll have more visitors soon, but seriously, I'm just so happy to have had them here while they were.
How is God revealing His self to you, sister?
Consider linking up this week!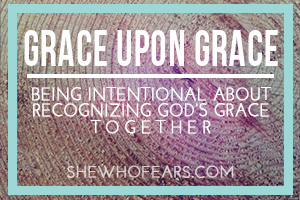 <div align="center"> <a href="http://www.shewhofears.com/search/label/grace%20upon%20grace" title="She Who Fears || Grace Upon Grace"><img src="http://i36.photobucket.com/albums/e38/JordynBrazil/graceupongrace_zps397b52e5.png" alt="She Who Fears || Grace Upon Grace" style="border:none;" /></a></div>