June 30th. Holy moly people, this month flew by, didn't it?! I just can't believe that it's July tomorrow. AH!
Anywho, let's kick this week off right and share some evidences of grace we see in our lives, shall we? I honestly love reading each of your posts every other week--it brings so much joy to my day!
+ One: Even after backing up into another car and getting a speeding ticket in a construction zone last week, Miles showed me more grace and patience and love than ever. I had a really hard time forgiving myself for both of those things, and they stressed Miles out at first, but he pointed me straight to Jesus and I am honestly so thankful to have such a ferocious leader of a husband.
+ Two: A couple from our group started coming to church! Well, the weekend before last (I'm not sure about this one, as we were out of town). So pray for them with me on that, but praise Jesus!
+ Three: As mentioned above, we finally went camping--for the first time together--and it was zoo beautiful. I'll probably be instagramming photos of the trip for weeks to come :) We stayed up in the Big Horns just past Buffalo and it was absolutely beautiful (when it wasn't raining haha). It's amazing to be out in God's creation and explore His handiwork.
+ Four: On our trip, there were six dogs, four German Shepherds. We kept them off of their leashes practically the whole time (a new deal for Shiloh and Karoo) and they never ran away! Plus, there was only one altercation and neither of the dogs got hurt!
+ Five: It's a new week. Can I be honest? Last week was hard. I was emotionally stressed and physically exhausted and my soul was weary. I didn't do laundry once. The shelves are dusty because after working 9+ hours each day the last thing that I wanted to do was clean. But, God. It's a new week. Plus, I have a wonderful husband who has offered to help me get caught up despite his sermon prep. I am feeling a bit rejuvenated and I can't wait for whatever the next few days have to offer.
'"The steadfast love of the Lord never ceases; his mercies never come to an end; they are new every morning; great is your faithfulness. "The Lord is my portion," says my soul, "therefore I will hope in him."'
(Lamentations 3:22-24 ESV)
Grab a button and add your link below!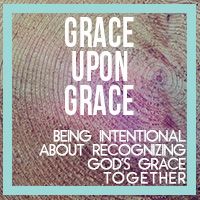 <div align="center"> <a href="http://www.shewhofears.com/search/label/grace%20upon%20grace" title="She Who Fears || Grace Upon Grace"><img src="http://i36.photobucket.com/albums/e38/JordynBrazil/grace_zps6e283cf0.jpg" alt="She Who Fears || Grace Upon Grace" style="border:none;" /></a></div>