Hey again! I am honestly so glad that you are here right now. Whoever you are, wherever you are, I'm just so glad you hopped over to She Who Fears [and I would love to get to know you, seriously]. How have you been my friend? How was your weekend? The weather here was windy and rainy, which limited most of my activities to the indoors, but that also meant I was fairly productive.
I'm so excited that it's time for Grace Upon Grace. I really miss reflecting every week on the blog, but I think that it's nice to keep note of it all privately, too. If you're new to this link up, click here for my brain & heart behind it and consider linking up this week! We'd love for you to join.
I know that I'm technically sharing about my life happenings in the last two weeks, but all of this stuff happened just this last week!
+ One: Do you guys know Rachel and Amy? Well, if you don't, you should. These were the first two that I connected with when I started SWF back in March and since then we've kindled a small fire of a friendship. Both of them have been such a huge source of encouragement and beacon of light to me and I have enjoyed getting to know them and the hearts behind their blogs so very much. Anyways, the whole point of this long introduction is that we finally had a face-to-face. ish. We had a 2+ hour google hangout, and every second of it ruled. It was a little tough because we are all in completely different parts of the country so timing was weird, and then we had some connection issues, but overall, it was awesome. We had great conversations and I'm so pumped for the futures of OYD and LDI!
+ Two: I know, I've mentioned the community group before, but you guys. Jesus is doing such amazing things! We halted our study through the book of John to do a summer series called "But What About ____?". We opened it up with week one to just brainstorm a bunch of questions and so now we're taking the summer to answer common objections and misconceptions of the Christian faith. Last week we answered "Why is Jesus the only way to God [when there are other 'moral/good' religions out there"? By the end of the night, every single person (which is a growing number) in the room was totally on board that Jesus is The Way, The Truth, and The Life, which was a huge feat. Praise God.
+ Three: My best friend from Reno turned 21 on the fourth and it was the first birthday of her's that we've been apart, which was sad. But we had a very long FaceTime convo on Friday and that ruled. It always brings so much joy to my heart to be able to chat with her and catch up. I've never had a friendship like I do with her, and besides Miles, I don't have anyone that I relate with or can laugh with like I can with her. It was a huge blessing that we were able to see each other and 'hangout' for a bit because our schedules don't always permit it.
+ Four: Father's Day was nice. I haven't been able to get ahold of my dad for a while so it was nice to be able to do that yesterday. We talked on the phone for a while about life and it was nice to catch up with him. I really love/miss/appreciate that guy.
+ Five: Have you guys heard of the Influence Network? Somehow I found them before I started blogging—probably through She Reads Truth and Hayley Morgan—and have been super interested ever since. I finally decided to become a member and have The Conference Talk with Miles. It went so well and we're going to work on sending me to The Influence Conference!!! I will probably be having a massive garage sale in the near future and adding a "Send Me to Influence" section to the shop. I can't explain how happy I am about this, especially because Rachel is going to be there, too. I think it will be such a great place to go to learn, meet, grow, and be encouraged. Are you going? Let's meet! (PS. I'm looking for a roomie! Are you??)
So, what's your life look like?
High or low, we want to know how God is revealing Himself to YOU.
Grab a button and link up!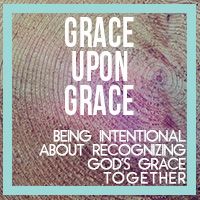 <div align="center"> <a href="http://www.shewhofears.com/search/label/grace%20upon%20grace" title="She Who Fears || Grace Upon Grace"><img src="http://i36.photobucket.com/albums/e38/JordynBrazil/grace_zps6e283cf0.jpg" alt="She Who Fears || Grace Upon Grace" style="border:none;" /></a></div>