It sort of feels like an eternity since the last link-up, doesn't it? Well I assure you, we've only taken a week off. As much as I've loved hosting this link-up each week, I think that a better place to start is every other week (not that I'm negating the worth of evaluating and sharing God's work in our lives—I just got ambitious). If you're a blogger yourself, I'd love to have you as my co-host here, so email me and let's chat! If you're new here, I'd encourage you to check out the last edition of Grace Upon Grace before you link up just to get a feel for what it is we've been doing here on Mondays. If you're not, I'm so glad you're back.
Grace Abounds:
+ One: We finally had visitors from Reno! Some of our closest friends trekked the 950 miles with their daughter and spent Memorial weekend with us. It was so rejuvenating to have the familiar voices back around. We spent the weekend catching up and introducing them to our hometown as well as just spending some quality time with our goddaughter (who was only two months old when we left). We are four people who would've never come to a point of interaction, ever, yet by the grace of God we are the best of friends.
+ Two: Ever since I backed the She Reads Truth kickstarter, I've been extra excited to receive my goodies and have a google hangout date with some of the other readers and ladies behind it. Well the coffee date was so extremely magnificent and it was great to chat with Raechel about some of the heart behind SRT as well as a woman, Lori, who has been reading along for quite a while! I also finally received the swag on Friday! Ah, I am so blessed by that ministry and I hope that sporting the shirt/sticker/journal/mug, etc. will spark conversation with other women here and maybe the SRT community will grow in WY! It would just melt my heart to come across someone else with a sticker or something. It's just cool to know you're waking up and diving into the same stuff as so many other women around the globe!
+ Three: Miles and I started a new reading "plan". Plan in quotes because it's not that at all. We have been talking about finding a plan to read the Bible daily together, but never acted. Then one day I came home and Miles had filled a mason jar with strips of paper and on each was a book of the Bible. So far we've gone through 1, 2, 3 John, Daniel, and we're finishing up Matthew now. It's kind of fun pulling out of the jar as we finish each book to see what's up next instead of having a set list to go off of!
+ Four: This last weekend the weather ruled and Miles and I took the dogs on a hike. It fills me with joy to get outside and spend time with my man and my dogs. There's grace in that.
So now I pass it off to you; what's Jesus doing in your life?
Write your post, grab the button below and add it to your post, and then add it to the link up!
I can't wait to read, friend!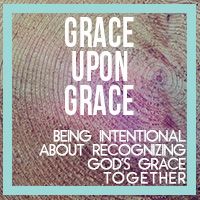 <div align="center"> <a href="http://www.shewhofears.com/search/label/grace%20upon%20grace" title="She Who Fears || Grace Upon Grace"><img src="http://i36.photobucket.com/albums/e38/JordynBrazil/grace_zps6e283cf0.jpg" alt="She Who Fears || Grace Upon Grace" style="border:none;" /></a></div>