Well hello there my sweet friends. It's Monday again, and I am determined to give this day a better rep!! Instead of letting the despair of the workload ahead bring us down, let's dwell on how Jesus is radically moving in our lives and transforming our hearts and blessing us with grace upon grace. Technically, we deserve hell and death, and instead receive life. So that's going well for us.
For those of you that are unfamiliar with this link-up, as I described a bit above, it is a way to challenge us to find and dwell on all of the blessings we are always receiving, both material and not, and sharing them with this fun blogging community. It's also a fun way to share what's going on in your life! But hey, it doesn't stop there because one of the most important parts of this link up is the encouragement that comes with it. As you'll read in the rules below each week, you have to visit the blog before yours (or all of them) and leave a comment. I absolutely love hearing from all of you, and I'm sure that you enjoy hearing from other readers, too. Plus, making new blogger friends is fantastic.
"Therefore encourage one another and build one another up, just as you are doing." (1 Thessalonians 5:11 ESV)
Here's what's goin on in my life, and how God is making beautiful things happen!
+ One: I am normally a very anxious person and I honestly can't even remember the last time that I had a really bad anxiety melt down. Although my coffee date post on Friday may have sounded a bit depressing, I have been mostly really happy and not worried about life. I've just been very content instead of anxious and that's definitely something to praise Jesus for because my anxiety affects me and those around me so without big attacks, life is way more smooth!
+ Two: We went to Denver again last weekend with my inlaws to support my mother and law and sister in law who ran in a half marathon and a marathon. It was really fun to be able to get in some quality time with Miles' sister since she doesn't live in the same town as us. It was also a major blessing to be able to drive down with the parents and stay with them and eat with them. Besides the money we spent on treats in town, we really just got a free weekend getaway.
+ Three: God is using Miles and I both to minister to a married couple we go to the same gym as and while it is really heartbreaking and hard to do, it has been the greatest testimony to how God has worked to radically change our own marriage. Looking back now, I know that God used our hardships to teach us more about Him as well as to teach us a lot more about each other, so that way we would be able to do things like this one day and speak into the lives of others.
As we labor in prayer for our friends, I would ask that you would also pray for their marriage to become centered on Christ and strengthened and repaired by His grace, too.
+ Four: This is my last week of work before the family I nanny for leaves for Hawaii. While I absolutely love my job, like I have mentioned before, I am so excited to get a week to refocus, reorganize, and (hopefully) explore outside with my pups. Miles also gets a three day weekend so it will be extra sweet to get to spend lots of time with him.
+ Five: I'm also extra excited because our best friends from Reno and our God daughter are coming up on Friday and it will be absolutely amazing to see them. They both have really amazing testimonies of how God has saved them, their relationship, and then their marriage too. They have been such amazing friends and the most awesome support system to Miles and I, and I am just overcome with pure joy thinking about seeing their sweet faces on Friday. Even though we just get the weekend with them, it will be absolutely amazing.
How about you?
I would be absolutely overjoyed to hear what sort of magic
is happening in your neck of the woods!
Grab a button and link up below friend!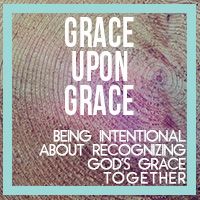 <div align="center"> <a href="http://www.shewhofears.com/search/label/grace%20upon%20grace" title="She Who Fears || Grace Upon Grace"><img src="http://i36.photobucket.com/albums/e38/JordynBrazil/grace_zps6e283cf0.jpg" alt="She Who Fears || Grace Upon Grace" style="border:none;" /></a></div>