Ah, you guys, life has been hectic lately to say the least. Today, I feel like I'm still so caught up in my busyness that it's hard for me to even recognize how God has been at work in my life. Today, it will be a challenge to string four things together and talk about God's grace, but that's one of the very reasons this whole link up exists: to challenge us.
If this is your first time over here for this link up, you can read a bit more about it here (although I really should outline it a bit more) and then maybe consider linking up with us below! Even though I post on Mondays, we link up throughout the week, so whatever works best for you!
+ One: I finally got my tooth extracted on Wednesday. Sad. Two of my baby teeth never fell out (they never got adult teeth underneath them) and finally, this guy was ready to go. Anyways, the true grace in it is that I don't have very much sensitivity in my mouth, so after the numbing agent wore off, there was no pain whatsoever and I think that's pretty neat. Also, like I said before, praise Jesus for giving us the ability financially to get things like this taken care of. So glad that it's out.
+ Two: I AM SO EXCITED. Miles finished one of his classes yesterday and then his other one will be done today when he finishes his final paper. This sweet husband of mine loves school and learning and reading...and really all of the things I am not very fond of. But anyways, he's a student at Moody Bible Institute via their distance learning program and he takes super intense eight week courses. It blows my mind that he goes to work full time and then does the student thing on top of it as well, and that in and of itself is a huge evidence of Jesus' grace in my life, but mostly his. Before Miles was a Christian, he probably never imagined his life as it is now...Anyways. Like I said, he finishes his semester tonight and then he's taking the summer off. We get to have a couple months study free and that makes me really excited. I could go on forever, but I'll save it.
+ Three: She Reads Truth is great. God has used it to drastically change my life. There has never been a time where I was actually excited to read my bible each day and He's used it to cultivate a deep need for the Word in my life daily. Not only that, but what an amazing community of women He's brought around me by it. I am always blown away by what I am learning through devotionals and then all of the comments seem to either challenge or encourage me in the best ways. Also, I'm really excited for goodies to arrive soon, EEK! If you're interested in finding out more about SRT, you can click right here, or their lovely little badge over to the right there. (We started a new plan in Nehemiah today! Seriously, join along!)
+ Four: We made some friends this weekend. Friends that I'm really excited about. We went to a movie with them on Friday night and then they came over last night for some hours and we talked and ate desserts. Miles has been working out with the guy a ton and so I don't know. I don't even know why I said that. But they're actually like, Bible-believing Christians and they're fun and they've been married almost six years and they love each other and I'm just excited for what this can blossom into. Also, they are from big town California, so we relate so well now that we live in small town Wyoming.
How about you? What ways are God blessing you, big or small?
Don't forget to copy the code below and paste it into your post when you link-up!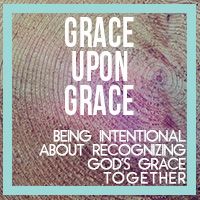 <div align="center"> <a href="http://www.shewhofears.com/search/label/grace%20upon%20grace" title="She Who Fears || Grace Upon Grace"><img src="http://i36.photobucket.com/albums/e38/JordynBrazil/grace_zps6e283cf0.jpg" alt="She Who Fears || Grace Upon Grace" style="border:none;" /></a></div>