Hey there ladies! I'm really excited to share this week because SRT's devotional on Saturday was SO encouraging and just motivated me to think of all of the ways Jesus is providing! This final paragraph was especially great:
"Look around your life. Where do you see the risen Christ today? What needs has He fulfilled that you did not anticipate, did not plan for, did not even know to ask for? Where do you see the fingerprints of His grace and lovingkindness? Sister, He is revealing Himself to you even now, in ways only you can recognize."
With that, here's some pretty miraculous stuff that has been going on:
+ One: Saturday, May third was the mark of my one year anniversary. I'll be blogging about that more on Wednesday, but what an amazing blessing marriage has been. God has done some remarkable work on both Miles and I as individuals and also as a couple. Seriously, only by grace did we make it through this first year. Also, I just got word that my cousin married his girlfriend yesterday, too so please be praying for them with me!
+ Two: Our community group is growing. What started as Miles and I and a friend is turning into a group too large for our living room to hold. While the numbers are pretty intense to comprehend, I think what's even more cool is that the people attending are beginning to grow spiritually, too. While most of them aren't true believers yet, I think that God is softening their hearts a lot and I'm so excited for what these next few months will hold for us. I love each of them and it's so great to be able to invite them over each week and eat and laugh and talk about life and God together!
+ Three: To celebrate our anniversary, we drove down to Denver for the weekend, which was amazing. Miles surprised me with a beautiful room on the top floor of the hotel in uptown with a rooftop pool. We had a blast exploring the city and shopping, and mainly just relaxing. We visited a few coffee shops and read and got to have a lot of uninterrupted quality time. It was a perfect little vacation to celebrate our marriage and catch up on sleep.
+ Four: So for those of you that don't follow me on instagram or Facebook, Miles got me a new car this last week! We had been talking for a while about finding a new car for me (I had previously been driving around an F150 which didn't work with my double carseat situation) and had shopped around a bit, but hadn't settled on anything for sure. Since driving around my mother-in-law's Subaru Outback, however, I've been eyeballing them hard. Miles asked me to come to the Subie dealership last Wednesday to "test drive an '04" but when I got there and we were looking at some of the cars in the lobby area, this one had a card with my name on it on the dash.
It's really amazing for my husband to consider surprising me like that, but even more profound that God would provide us with the means to be able to make a purchase like this. We were able to sell my truck just two days after we signed the papers for this lovely lady, and Miles' payments for Logos will be up in June, when we have to make our first payment for the Subie. It's really bizarre how smoothly it's all worked out. I am so happy that it's been so stress free thus far.
There are plenty of other things I would love to share but I am beginning to feel a wee bit sick and so I think it's time to call it a night. However, I would love to hear about your week.
I would love to hear about what amazing things Jesus is doing in your life.
Consider linking up with me this week, friend!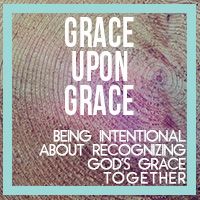 <div align="center"> <a href="http://www.shewhofears.com/search/label/grace%20upon%20grace" title="She Who Fears || Grace Upon Grace"><img src="http://i36.photobucket.com/albums/e38/JordynBrazil/grace_zps6e283cf0.jpg" alt="She Who Fears || Grace Upon Grace" style="border:none;" /></a></div>
document.write('<scr' + 'ipt type="text/javascript" src="http://www.inlinkz.com/cs.php?id=401943&' + new Date().getTime() + '"><\/script>');