Wow you guys. I am so grateful for all of you that linked up last week! It was seriously so great reading through each of your posts. I think Amy put it best in a comment last week saying, "Remembering God's grace and being intentional about being thankful for it, documenting it, and sharing it with others is valuable!" Right?! I was so, so encouraged by everything that you ladies shared. I was also able to connect with a few new sister friends through it and that's always great.
With that, here's the rest of what I'm extra amazed at this week:
+ One: Well, Miles and I went to the dentist this past week. I have to finally get a tooth extracted and Miles is getting his front ones fixed this week. While I am selfishly sad that we are spending money on getting our teeth worked on (instead of some extra extravagant Caribbean cruise anniversary trip) I am even more grateful that we have the means to be able to do this in the first place. God has provided Miles with a killer job and killer insurance, and has provided us an awesome dentist that really cares about us. I am so grateful that we are able to get painful things like this taken care of because I know so many people can't.
+ Two: So we don't live in the greatest neighborhood in town as renters, and in the past month I've been witness to two different accounts of domestic abuse. This has lead me to tons of prayer for my neighbors as well as an amazing amount of gratefulness towards my extremely gracious, patient, and kind husband. I have given Miles so many reasons to shout ugly things and turn around and hit me, but I can rest confidently knowing that the sweet man by my side loves Jesus so much that he would never hurt me that way.
+ Three: Most precious thing happened this week at work! For those of you that don't know, I'm a nanny and so this week while I was playing with the girls, the oldest started singing to herself, "Jesus loves me this I know, for the Bible tells me so.." I asked where she learned that song and she replied with, " remember?? We were listening to it the other day??" Ah, as I read about the great commission the next day and tried to think of the disciples I have poured into, I was so discouraged until Jesus reminded me that children count too.
+ Four: So my shop has been getting a lot of action lately. Mostly, I think I've just been doing a lot of work outside of my shop and that's what makes it seem busy, but an extra twenty bucks here and there is nice. Plus it's been a good way for me to get out of my own head and back into the word (since most of what I do is paint bible verses).
+ Five: Simply, my dogs make me happy. Miles and I were trying to think of what our lives would be like without them. We'd have more money, more time, and more freedom, (they're basically children) but we wouldn't trade them for anything. Thankful that God made these two pups just for us to enjoy. Kind of mind blowing to actually consider.
+ Six: Last but not least, I finally used a massage gift card I had from my birthday back in November. It was so relaxing. I wish I could get one every day! Haha. I am thankful that the family I work for has become so close, like my own family, and that come birthdays and holidays we celebrate together. It's nice working for people you love and becomes hard to even call it work!
What about you? What sorts of things are you grateful for this week? Even if you haven't had the best of days lately, I challenge you to dig deep and post how God is working in your own life!
Copy the link of the button below and add it to your post!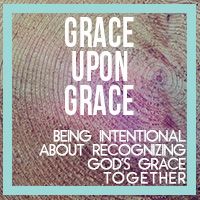 <div align="center"> <a href="http://www.shewhofears.com/search/label/grace%20upon%20grace" title="She Who Fears || Grace Upon Grace"><img src="http://i36.photobucket.com/albums/e38/JordynBrazil/grace_zps6e283cf0.jpg" alt="She Who Fears || Grace Upon Grace" style="border:none;" /></a></div>
document.write('<scr' + 'ipt type="text/javascript" src="http://www.inlinkz.com/cs.php?id=399218&' + new Date().getTime() + '"><\/script>');